In 1997 I decided to make brief second foray into the second hand motorcycle business.
I'd just signed on for a three year humanities degree at the dear old alma mater, The University of Glamorgan, or as it was known in those days "degrees 'r' us".
These days I believe it to be quite a good university. Back then it was full of overly muscled sports sciences students, stoners studying environmentalism and a fair proportion of people who either couldn't get in anywhere else, or were attracted by the honest Welshness (and cheapness) of the place.
And for what I went to study, which was writing and drama, it was staffed by some remarkable talents.
With no qualifications other than four dodgy GCE's and an Grade E in A-Level technical drawing, oh, and an RTITB diploma as a semi-skilled motor mechanic, I went in as a mature student, got a full grant, and a full student loan. But it wasn't going to be easy - as a postie I'd been making well over a thousand a month, and I was going part-time, so that was going to be halved and I still had a family to support.
So I used my student loan to start a short lived second-hand motorcycle business, working on the principle that even if I only made a tiny profit, the money would last longer if tied up in aluminium and steel.
So I took out a small ad, saying I wanted to buy a motorcycle. Any motorcycle.
By the end of the week I had spent £1,000 and had amassed a Honda CB500-4 chopper from a kid in Builth Wells, A Suzuki GS400, Three quarters of a CB550, A Kawasaki KE100 trail bike from a bloke in Newport and a Benelli 250-2C.
The GS was sold in days, but the rest didn't go quite so smoothly.
The CB500 was kind of funky, and I liked it a lot, so didn't mind hanging on to it for a bit.
My CB500 chop. These days it would be called a rat. I thought it looked very cool
I broke the CB550-4, selling enough parts to make my money back, and still having the frame and forks to off-load. I never did sell those bits though, and they went into the crusher with the Peugeot when the council cleared my lock-up.
The KE100 was a lovely little bike, and far too attractive to leave on the street. The teenagers round my way would have had it away in a trice.
The Kawasaki KE100. As a motorcycling parent it is compulsory to keep photographs of your children looking silly in order to embarrass them later in life
So I stuck it in the basement, where mice chewed a hole in the two-stroke oil tank. I fixed it with a hot knife and some gaffa, sold it for a tidy profit to a kid three streets down, and as I expected he only had it for a fortnight before it got stolen.
The Benelli was a mystery. The bike was pretty much immaculate, and the bloke who sold it to me started it up, and it ran fine, so I gave him £200 for it.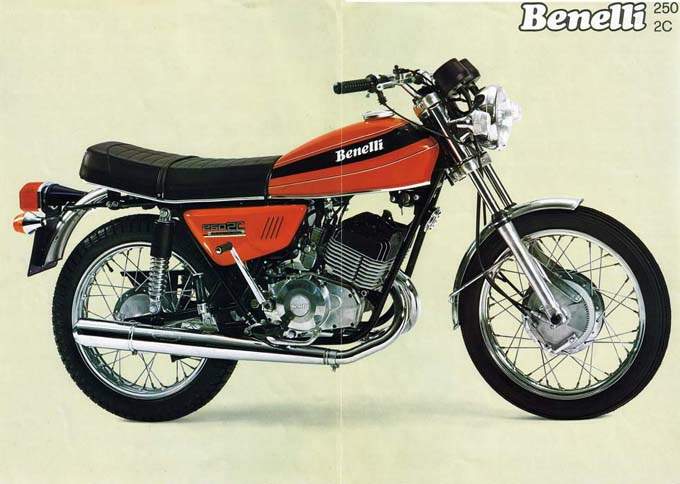 Looked great, wouldn't run worth a damn.
But I could never get it to run for more than a mile before it would cough to a halt and refuse to go again. But if you left it for a few hours, it would start up again for a mile and die again. I never got to grips with it, but still managed to sell it for £350, despite warning the buyer about this baffling fault. As far as I know he never worked out what was wrong with it, and in the end it got chucked in a skip...
And while all this was going on my whole world was turned upside down, the response to the demand: "It's him or me." turned out to be "him", and I went from my family home to a single bedroom in student digs.
I flogged the chopper for a healthy profit and good old Cassius the XS650 took me to and from work, and back "home" at weekends to see the kids.